Manchester City: Our Decade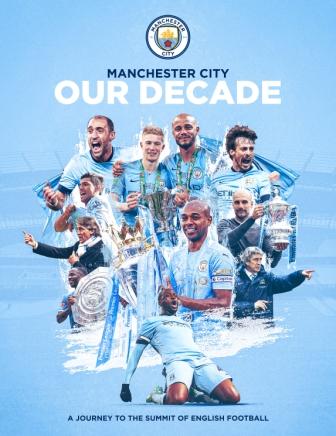 Manchester City: Our Decade
*On sale April 1, 2022
For more than a decade now, Manchester City fans have been living the dream, enjoying the most successful period in the club's long, illustrious history.
Since the pivotal FA Cup triumph of 2011, which ended the Club's 35-year wait for silverware, City have never looked back. The ensuing decade has seen them win five Premier League titles, another FA Cup and an astonishing six League Cups, rewriting English football history along the way.
The foundations of those achievements were laid by the transformational Abu Dhabi United Group takeover in 2008. Subsequently, under the expert guidance of Roberto Mancini, Manuel Pellegrini and, more latterly, the inspired leadership of Pep Guardiola, Manchester City have forged a blueprint for a brand of beautiful football that is admired across the world.
Using exclusive club photography and extensive archival research, Manchester City: Our Decade brings together a unique collection of the Club's key matches and pivotal personalities in that 10-year period which have helped usher in a golden age of English football.
From that first Yaya Toure-inspired FA Cup win in 2011, to the unforgettable 'Aguerooo' 93:20 moment and, more recently, Guardiola's record-breaking Centurions and Fourmidables, this book charts the memorable moments and defining figures which have helped establish City as a by-word for sporting excellence.
There are undoubtedly many more exciting chapters still to write in the history of this great football club, but the story of Manchester City: Our Decade will be hard to match.