Manchester City: Our Decade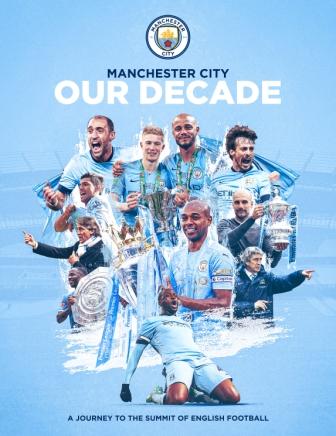 Manchester City: Our Decade
CHRISTMAS GIFT IDEA – 40% OFF!
& FREE Champions edition matchday programme with each order, while stocks last!
When the final whistle blew at Wembley on a sunny Saturday in May, 2011, the first chapter had been written in what was to be a remarkable football success story. Manchester City had defeated Stoke City 1-0 thanks to a Yaya Toure goal and they would climb the famous steps to lift the FA Cup under the leadership of their manager Roberto Mancini. It was Cityx 27s first major domestic trophy in 35 years and would herald the start of an unforgettable period. Over the next ten years, City would go on to claim five Premier League titles, five League Cups, three Community Shields and a further FA Cup. Coming from the heart of the club, this is the official celebration of ten incredible years both on and off the pitch, charting not just the football journey but also the how the club played its part in a ground-breaking way to help regenerate the city x27s fortunes. The book will include rare images from the club archives and unique insight and exclusive interviews from the key figures who made it all happen. With a foreword by legendary manager Pep Guardiola, it is an essential buy for every follower of Manchester City as well as those wanting to understand the secrets behind their remarkable achievements.