This Is How It Feels – An English Football Miracle
Author: Mike Keegan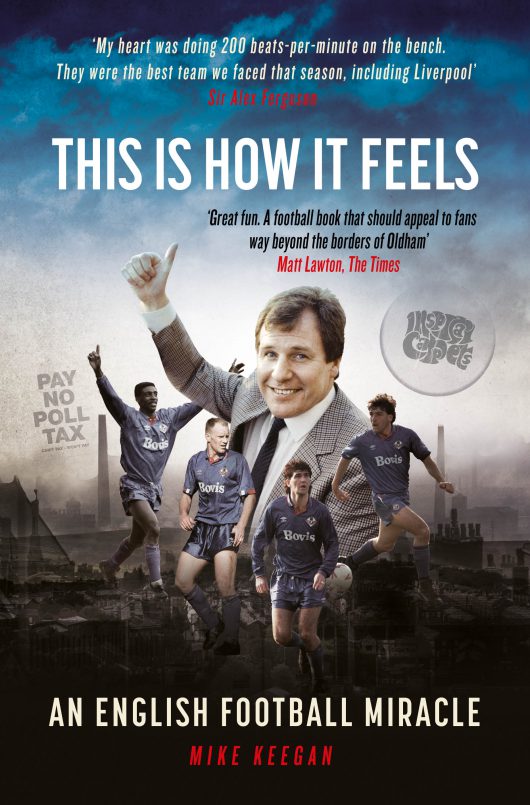 This Is How It Feels – An English Football Miracle
Author: Mike Keegan
Hard Shoulder, M62 Eastbound, June 1982… Britain is on the verge of taking the Falkland Islands back from the Argentine invaders, Margaret Thatcher is three years into her tenure at 10 Downing Street and for the first time since the 1930s, three million people are unemployed – with the nation reeling from recession. One of those searching for a job is standing at the side of the motorway which links the north of England's east and west coasts with his thumb out.
Newly-retired former Everton, Manchester City and England striker Joe Royle is trying to hitch a lift to Boundary Park for what he thinks is an interview for the post of manager at backwater Oldham Athletic. Behind him, smoke pours from his broken-down car's engine. After a passing lorry takes him the rest of the way, Royle is told that the job is his – and that he will have to sell a player or the club will go bust. Later that day, bailiffs drop in and eye up his office furniture. That night he is in his own garage, stencilling the initials of players' names on training kit as the reality of the task in hand hits home.
What happened next is one of the great, untold football miracles of all time as unfancied Oldham emerged from the shadows of their illustrious Manchester neighbours and embarked on a thrilling, white knuckle ride to the summit of the English game.
This is a story that has not been told before. It is a time when the impossible was possible, long before the vast millions in broadcast money arrived and the creation of the Premier League changed football in England forever. A time when an astute manager and wily chairman could scour the big clubs for castoffs and achieve the unachievable. It is something that will never be repeated and, in these times of huge salaries and commercial excess, is a tale of harder and yet often-happier times when small clubs could dream big. In the 30th anniversary year of Royle's remarkable revolution, it is the perfect time for This Is How It Feels to hit the book shelves.
About the author:
Mike Keegan is the Sports News Correspondent and Sports Agenda Editor at the Daily Mail. He has been a journalist for 15 years and has also worked at the BBC after starting his career at the Manchester Evening News. While at the MEN, he covered Oldham Athletic and was the district news reporter for Oldham and Rochdale, which has given him unparalleled access to figures within the club and the town. He is regarded as one of the country's best sports news journalists and regularly sets the agenda by consistently breaking high-profile exclusives. Originally from Oldham, Lancashire, this is his first book and has been six years in the making.